---
LNB 5000 Bio-waste Collection Body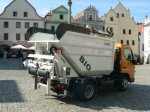 The body is designed mainly for collection and transport of biologically recyclable waste but can also be used for collecting municipal solid waste (MSW). The body volume is 5m3 and it is designed for mounting on vehicles with minimum wheelbase of 2,500mm and corresponding payload.
The body is welded from stainless sheets. It is a box-shaped container with a top feed entrance and a compacting shovel. At the rear end it is fitted with a universal dumper for 110, 120, 240 and 1,100L containers.
Hydraulic supports ensure stability when emptying the body; emptying height is approx. 1,800mm (according to the carrier used).
---
---