---
SVS Road Gritters for Pavement Carriers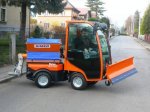 SVS road gritters are designed for gritting using inert and chemical materials on roads, pavements and other areas. Gritting material is moved using a screw conveyor.
New - SVS 0.2 Road Gritter
The SVS 0.2 gritter with a 0.2m3 body volume is the smallest gritter of our product range. In combination with Holder C 130 carrier it is suitable for winter maintenance of pavements up to 1m width. The gritter is equipped with a screw conveyor and stainless steel gritting member with either manual or electric control.
SVS 0.2 Holder with 0.2m3 body is the smallest gritter of our product range
SVS road gritter with a front-mounted snow plough
SVS road gritter with a road sweeper
---
---