---
Sewage Cleaning and Suction Bodies
You are here:
Products
»
Sewage Cleaning and Suction Bodies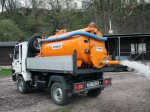 Sewage bodies designed for suction and transportation of sludge in volumes from 1m³ to 12m³. Various suction sludge tanks executions - suction arms, checking manholes or opening rear covers, wide choice of vacuum compressors etc. will satisfy every customer's needs.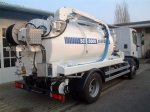 SCS-K jet rodding body is designed for cleaning drainage and sewage pipes with the option of pressure water cleaning. Bodies are supplied in volumes from 2m³ to 12m³.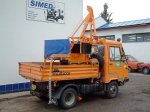 The device used for light manipulation when cleaning sewer baskets in sewer entries and for removing-detaching sewer covers – swivel arm with a hydraulically operated hook.
---
---